Voluntourism — "all Inclusive" social commitment?
More and more people want to experience something more than the typical tourist sights when on holiday and contribute to improving the living conditions of local people. Every year, an estimated 15,000 to 25,000 Germans book voluntourism offers in the Global South: experience-oriented volunteer assignments that last only a few weeks. In addition to non-profit educational programmes, more and more commercial providers are discovering the lucrative business of travel and "helping".
The product range is broad. It varies from the possibility of teaching English at a school in Ghana for four weeks — including the journey, project mediation and a programme of tourist activities on the side — to the option of working for a week in a rescue station for injured wild animals in Costa Rica following a round trip, or taking a day trip to a supposed orphanage. But whom do these offers really help?
---
If projects are primarily geared to the wishes of paying customers — the voluntourists — the locals' needs and interests risk taking a back seat. The non-profit organisations that look after the volunteers on site become tourist service providers. Partnerships at eye level and joint learning cannot be achieved this way.
Many providers market their trips with poverty-oriented marketing and pictures of wide-eyed children. The tone of the advertising often shows the volunteers as active do-gooders or "development workers", while it depicts the local people as grateful but passive recipients of help. Thus neo-colonial clichés are reinforced rather than reduced.
---
Lack of qualification and preparation of volunteers
Hardly any provider checks whether the volun tourists have the necessary qualifications to be able to make a meaningful contribution on site. Preparatory courses are often only offered against payment. They are usually too short and rarely obligatory for subsequent assignment. It is not uncommon for volunteers with no proven language skills, no training in education and no preparation, to teach English for several weeks at a primary school. This carries the great danger that constantly changing and overburdened volunteers will be teaching schoolchildren the same contents at a low level over and over again. Some offers also encourage competition for local jobs. When voluntourists offer their services free of charge — or even pay for them – local jobseekers have little chance of finding paid work.
---
Insufficient child protection
Operations with children are particularly in demand, but also particularly problematic. Often, effective plans to protect children and their rights are lacking. Volunteer work and day visits to orphanages are particularly popular. Unscrupulous human traffickers do not only exploit the desire of voluntourists to help. These traffickers also persuade families to give their children to the home in the hope of a better life. As a result, the children grow up separated from their families. The permanent change of caregivers – the voluntourists who usually stay only a few weeks – traumatizes many of the children and fosters attachment disorders. Unfortunately, cases of sexual exploitation of children by travellers also occur time and time again – paedophile offenders exploit the dependence of children and go unnoticed because providers far too rarely take protective measures.
Publications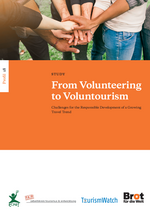 From Volunteering to Voluntourism
Challenges for the Responsible Development of a Growing Travel Trend
Download (PDF)
---
Think about your own expectations, qualifications and resources
Volunteers are the ones in control of whether, and to what extent, their stay abroad has a lasting effect. First of all, the travellers themselves benefit from their volunteer tourism. You get to see everyday life in a foreign country up close, and gain impressive experiences. That can raise awareness of global contexts. However, you must be aware that the short assignments, which usually require little well-founded specialist knowledge or work experience, are not to be equated with development aid. If you want to make a contribution on the ground, you often need specific previous experience and an assignment that knows the local needs well. Within this context, travellers must critically reflect on their own abilities and expectations. As a guide, volunteers can think about whether they would be sufficiently qualified in Germany to be able to successfully carry out the desired activity abroad.
Another important factor is the time available. The longer you are on site, the more insight and overview you gain and the better you can get involved. Those who go abroad with little work experience should stay as long as possible. This is possible, for example, with the Weltwärts ["Out into the world"] programme supported by the German Federal Ministry for Economic Cooperation and Development (Bundesministerium für wirtschaftliche Zusammenarbeit [BMZ]). Weltwärts does not see itself as an aid service, but as a developmental learning and exchange service and fulfils quality standards. This includes, for example, intensive preparation and follow-up work lasting several weeks as well as a stay of between six and 24 months.
Alternatives to Voluntourism
Aside from the short-term, commercial voluntourism offers and the long-term, regulated voluntary services, there are a multitude of reasonable alternatives for travellers.
Take a sustainable trip with a TourCert certified tour operator. This way you ensure that a good portion of your expenses remain in the country of destination and offer people economic opportunities.
Visit community-based tourism initiatives. You can gain profound experiences and authentic impressions of the locals' everyday life.
Get involved in social and environmental projects at home and make important contributions to sustainable development right on your doorstep.
Ask critical questions to find serious offers
If you decide on a voluntourism provider, let us advise you and ask yourself critical questions.
Will I be well prepared and accompanied on site?
How long has the tour operator been working with the local organisation? What specific tasks should I take on?
How much of the travel price does the local organisation receive and what is the trade-off?
Does the organiser have a comprehensive child protection strategy?
You must be especially cautious when it comes to projects with children. These should last at least six months and assignments in orphanages should always be avoided. Here you should ask further specific questions:
Is any special training given regarding children's rights? Will I be supported if I have no experience working with children?
How many full-time employees does the project have; how many volunteers?
Who can I contact if I observe grievances?
Is there a minimum length of stay?
---
Tourism Watch demands specific action from voluntourism providers:
Take social and ecological sustainability standards into account — as with other travel products.
Ensure child protection through a child protection policy and a child protection management system.
Build sustainable and long-term partnerships with local organisations that focus on local needs.
Avoid poverty-oriented marketing and do not present the operations as development aid.
Ensure price transparency and show what portion of the travel price the host organization receives.
Improve the selection of volunteers. On the basis of a letter of motivation, curriculum vitae and extended certificate of good conduct, select suitable volunteers together with the local partners.
Improve preparation and follow-up of volunteers: promote realistic expectations, developmental training and commitment after return.
Increase length of stay and avoid short-term assignments with children. The longer the stay, the more all sides benefit. Short-term stays in projects with children should be avoided, as should orphanage tourism.
---
---